Revelations are appearing across social media that the Wonderland CFO, known as Sifu, is actually Michael Patryn, the co-founder of the notorious Canadian QuadrigaCX exchange, where the founder disappeared with $169 million. 
This must be a wonderful sight for the likes of regulators, who must be licking their lips at being able to clean up this kind of DeFi debacle, and say to all the retail investors that we told you so. One story as awful as this tars the whole DeFi scene with the same brush, as far as those who sling mud from the traditional banking sector would have it.
According to an article on Bloomberg, Sifu, aka Michael Patryn, has committed various crimes such as conspiracy to commit credit and bank card fraud, burglary, computer fraud, and grand larceny, and spent 18 months in a US prison.
Daniele Sestagalli is the co-founder of Wonderland, a DeFi project on the Avalanche blockchain. He had worked closely with Sifu on the Wonderland project, and had entrusted him with looking after the treasury. 
However, according to Sestagalli, he became aware about a month ago of Sifu's past. But decided that the past was the past, and that Sifu deserved his second chance. He posted the following tweet in the early hours of this morning:
TIME, which is the native token of Wonderland, has taken a huge battering recently and has fallen hugely in price, down around 37% just today. Whereas no link has been drawn between this and Sifu, some are now wondering, and the following tweet, if correct, leaves a lot of questions still to be answered:

Sestagalli has since rethought his original tweet, and has subsequently released a statement on his new views on the subject. This includes asking Sifu to step down until a community vote on the position of treasurer has taken place.
Andre Cronje is a close friend of Daniele Sestagalli, and says that he still plans to work with him in spite of his poor judgement. However, he did tweet this in response to the situation: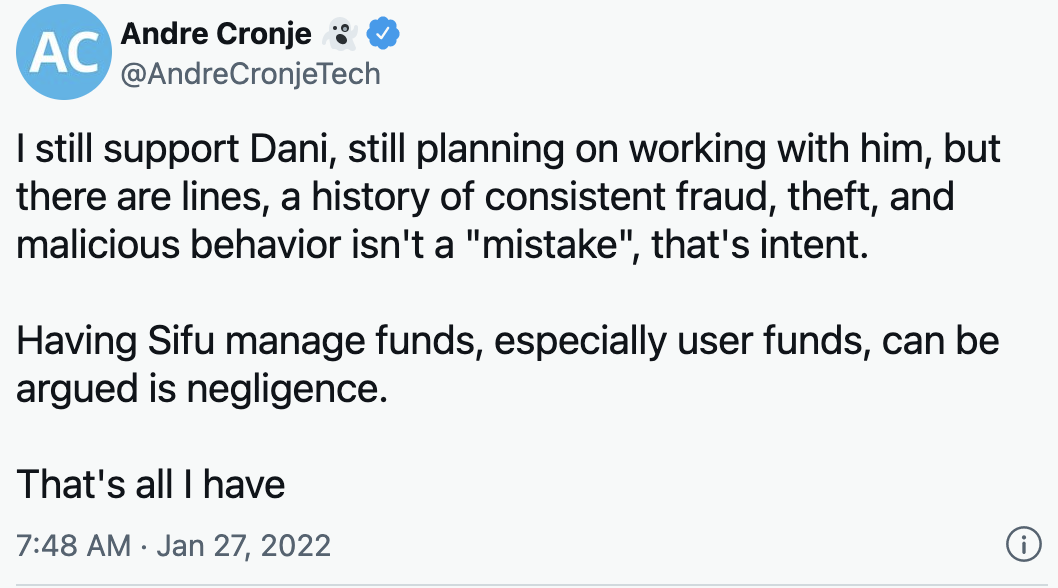 He also added in another tweet:
Dani knew for a month, and in that time Sifu was handling funds. I don't know what's psyops, I don't know what's going on. I want to get off of Willy Wonka's magical ride.
There is very likely a lot more revelations still to come on this saga, and it could be expected to become a lot worse as law enforcement takes over. The Wonderland project may well die because of this, and many will lose their funds. It is to be wondered just how many more of these kinds of situations there will be before crypto is obliged to get its act together.
Disclaimer: This article is provided for informational purposes only. It is not offered or intended to be used as legal, tax, investment, financial, or other advice.

Credit: Source link